Art is a universal language that transcends cultural boundaries and speaks to the core of our humanity. It has been a means of expression, communication, and self-discovery for centuries. But beyond its aesthetic appeal, art has also found a profound purpose in the field of mental health and well-being. This purpose is embodied in a therapeutic approach known as "Art Therapy.
Art Therapy: A Brief Overview
Humans have a natural inclination for self-expression. Research suggests that when adults suppress, deny, or inhibit their emotions, it can block neural pathways. Over time, this blockage can impede the release of vital feel-good chemicals that influence our biology and behavior. To ensure emotions flow freely, they must be acknowledged and expressed. Thankfully, art offers a straightforward way to experience and express these emotions, whether through drawing, painting, sculpting, music, movement, writing, drama, or any creative outlet that allows you to open up and share your inner self. You don't need to possess special talents or skills; these are tools for self-expression, accessible to all.
Art therapy is a mental health profession that utilizes the creative process of making art to improve and enhance the physical, mental, and emotional well-being of individuals of all ages. It is a unique form of therapy where individuals, under the guidance of a trained art therapist, create and reflect upon their art to explore their feelings, reconcile emotional conflicts, manage stress, and boost self-esteem. Unlike traditional talk therapy, art therapy allows individuals to express themselves non-verbally, tapping into a deeper, more intuitive realm of their consciousness.
Art speaks where words are unable to explain.

-Pam Holland

The creative process involved in art therapy offers a safe and non-judgmental space for individuals to explore their thoughts, emotions, and experiences. Art therapists are trained to help their clients navigate this creative journey, facilitating self-awareness and personal growth through various artistic mediums such as painting, drawing, sculpture, and even digital art.
Now, let's delve into the many benefits of art therapy: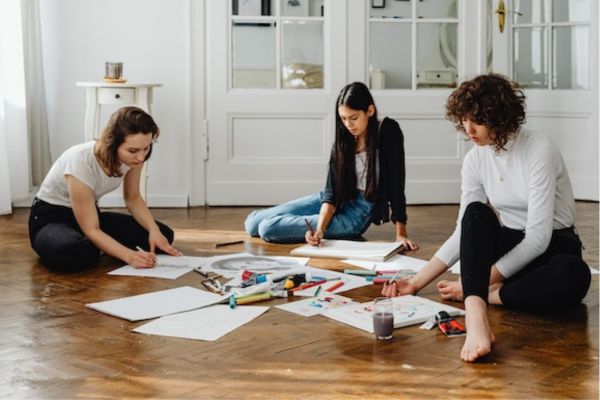 1. Emotional Expression and Release
One of the most significant advantages of art therapy is its capacity to help individuals express and release suppressed emotions. Some emotions are challenging to convey verbally, or individuals may not have the words to articulate their feelings. Art provides a medium to externalize and make sense of these emotions. Through the act of creating, individuals can explore their anger, sadness, joy, and even confusion in a way that feels safe and non-threatening.
For example, someone who has experienced trauma might struggle to speak about their feelings, but they may find it easier to depict their emotions through art. Creating art can help individuals process and release the emotional weight they carry, leading to a sense of relief and emotional catharsis.
2. Stress Reduction and Relaxation
Art therapy can be a powerful stress management tool. Engaging in a creative process helps activate the brain's reward center and reduces stress hormones. As a result, art therapy is particularly effective for individuals dealing with high levels of stress or anxiety.
The repetitive, rhythmic motions involved in art-making, such as painting or coloring, can induce a state of relaxation similar to meditation. This meditative quality of art therapy is not only soothing but can also improve sleep patterns, enhance focus, and reduce overall feelings of tension and restlessness.
3. Improved Self-Esteem and Self-Confidence
Creating art and witnessing one's creative progress can significantly boost self-esteem and self-confidence. Many people, especially those who have been told they are not artistic, carry self-doubt regarding their creative abilities. Art therapy challenges these negative self-perceptions and empowers individuals to see their creativity as a valuable and unique aspect of themselves.
The act of completing an artwork, no matter the skill level, fosters a sense of accomplishment. This sense of achievement is especially important for individuals struggling with low self-esteem, as it counters feelings of inadequacy and self-criticism.
4. Enhanced Communication and Interpersonal Skills
Art therapy can be particularly beneficial for individuals who struggle with verbal communication, such as those on the autism spectrum or individuals with social anxiety. Through art, individuals can communicate their thoughts, feelings, and experiences to others in a non-verbal manner.
Furthermore, art therapy can improve interpersonal skills by encouraging individuals to share their artwork with others, fostering a sense of connection and understanding. It can also be a valuable tool for couples or family therapy, providing a creative platform for discussing and resolving conflicts in a less confrontational manner.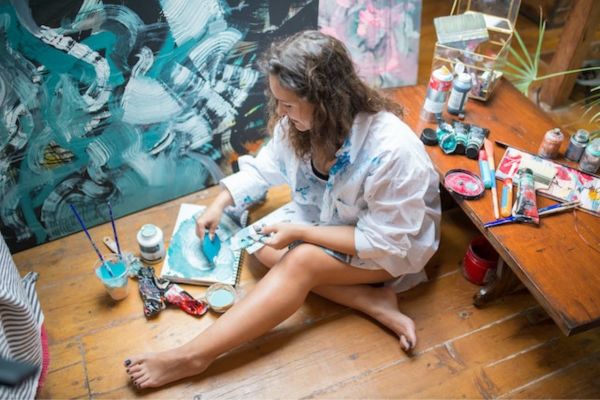 5. Self-Exploration and Insight
Art therapy encourages self-exploration and introspection. As individuals create art, they may discover hidden aspects of themselves, their desires, and their unresolved issues. Art becomes a mirror reflecting their inner world, providing insight into their thoughts, behaviors, and relationships.
The art-making process often leads to self-discovery and personal growth. Individuals may gain a better understanding of their emotions, triggers, and coping mechanisms, allowing them to make positive changes in their lives.
6. Coping with Trauma and Grief
Art therapy has been instrumental in helping individuals cope with trauma, grief, and loss. When words fail to convey the depth of pain and suffering, art can serve as a powerful vehicle for processing and healing. The act of creating can provide a safe space for individuals to revisit and reframe their traumatic experiences.
In cases of grief, art therapy allows individuals to memorialize and honor their loved ones. Creating artwork in memory of someone can be a healing and transformative experience, fostering a sense of closure and continued connection with the deceased.
7. Behavioral and Cognitive Improvement
Art therapy is not limited to emotional well-being; it can also enhance cognitive and behavioral functions. In clinical settings, it has been used to support individuals with various mental health conditions, including attention deficit hyperactivity disorder (ADHD) and post-traumatic stress disorder (PTSD).
For those with ADHD, art therapy can improve focus, attention, and impulse control. It provides a structured yet creative outlet that encourages self-regulation and organization. For individuals with PTSD, art therapy helps process traumatic memories and reduce intrusive thoughts. The creative process can also serve as a grounding technique, allowing individuals to reconnect with the present moment.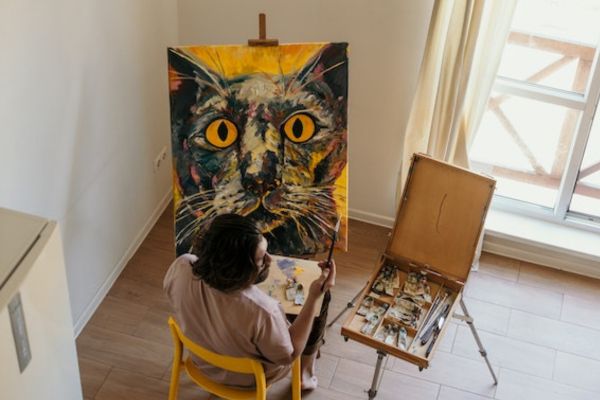 8. Addiction Recovery
Art therapy is increasingly integrated into addiction recovery programs. It can help individuals address the emotional and psychological factors underlying their addiction. Creating art provides a positive and healthy alternative to substance use, allowing individuals to channel their energy and emotions in a constructive manner.
Art therapy can also foster a sense of identity and purpose, which is often lost during the depths of addiction. By engaging in creative activities, individuals in recovery can regain a sense of self and direction in life.
9. Encouraging Mindfulness and Presence
Art-making naturally promotes mindfulness, a state of being fully present and engaged in the current moment. When individuals are focused on their creative process, they are less preoccupied with past regrets or future anxieties. This mindfulness can be a respite from the constant chatter of the mind and offer a sense of peace and calm.
Incorporating mindfulness into art therapy can be particularly beneficial for individuals dealing with anxiety disorders and those seeking to reduce rumination and obsessive thinking.
10. Personal Growth and Transformation
Ultimately, art therapy can be a powerful catalyst for personal growth and transformation. As individuals continue to create art and reflect on their journey, they may experience profound shifts in their self-concept, relationships, and life goals. The process of art-making can be a metaphor for the broader process of personal evolution.
The therapeutic benefits of art extend beyond addressing specific issues or challenges. Art therapy can empower individuals to live more authentic, meaningful lives and reach their fullest potential.
Conclusion
Art therapy is a versatile and holistic approach to mental health and well-being that offers a myriad of benefits. Whether you are seeking emotional expression, stress reduction, enhanced self-esteem, or personal growth, art therapy can provide a unique and powerful path to healing and self-discovery.
If you've never explored art therapy before, it's never too late to start. You don't need to be an artist to benefit from the therapeutic process of creating art. In the hands of a trained art therapist, art becomes a gateway to your inner world, a means to navigate challenges, and a tool for self-transformation.
So, whether you pick up a paintbrush, mold some clay, or start coloring, remember that art has the potential to heal, empower, and inspire. It is a testament to the remarkable fusion of creativity and psychology, demonstrating the profound capacity of the human spirit to overcome, heal, and thrive through art.
Give art therapy a try, and you may find yourself on a journey of self-discovery and emotional healing you never thought possible.