Think about a typical Monday morning, whether you're a young adult juggling work and studies, a married couple balancing career and family, or an individual navigating the complexities of life. You might be faced with an extensive to-do list, rushing to meet deadlines, getting ready for the day ahead, or simply trying to keep up with your responsibilities. In the midst of this hustle and bustle, have you ever felt that yearning for a moment of serenity, a brief pause in the daily chaos to find your inner calm? This universal desire for mindfulness and inner peace transcends age, marital status, and life circumstances, making aromatherapy more relevant and accessible than ever before. Aromatherapy isn't solely about pleasant fragrances; it's a pathway to mindfulness, offering you a journey towards inner peace by transforming your everyday routines into soul-soothing rituals.
What is Aroma Therapy?
Before we embark on our journey to explore how aromatherapy can foster mindfulness, let's begin with a fundamental question: What exactly is aromatherapy?
Aromatherapy is an ancient practice that harnesses the power of essential oils and fragrances to promote physical, emotional, and spiritual well-being. These essential oils are extracted from various parts of aromatic plants, capturing their unique scents and therapeutic properties. Whether you're inhaling the soothing aroma of lavender before bed or enjoying the invigorating scent of citrus in the morning, aromatherapy invites you to engage your senses and reconnect with the present moment.
Imagine entering a room filled with the delicate aroma of roses or the earthy warmth of sandalwood. Instantly, your mind begins to unwind, and your senses come alive. This sensory engagement is the first step towards mindfulness, as it anchors you firmly in the here and now.
You are 2 Drops & 1 Deep breath away from a better Mood.

-Essentialoilstyle.com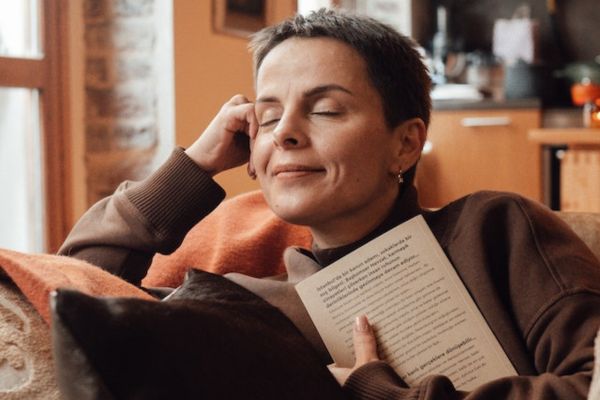 Practicing Mindfulness Activities with Aromatherapy
1. Calming the Turbulent Mind
One of the biggest challenges to mindfulness is the ceaseless chatter of our minds, racing with thoughts about the past and worries about the future. Aromatherapy can be your tranquil oasis amidst this mental turbulence.
Consider the calming power of lavender essential oil. Lavender has been scientifically proven to reduce anxiety and stress levels. When you diffuse lavender oil or apply it topically, the soothing scent gently envelops your senses. It acts as a balm for your racing mind, signaling to your brain that it's time to relax.
Similarly, oils like chamomile, frankincense, and bergamot have their unique calming effects, making aromatherapy a versatile tool to suit your individual needs. These oils work not only on the surface level of your senses but also at a deeper level, impacting your emotional state and fostering a profound sense of mindfulness.
2. The Art of Ritual
Mindfulness often thrives in the presence of rituals. Rituals are the anchors of our daily lives, reminding us to slow down, breathe, and be present. Aromatherapy offers the perfect gateway to establish mindful rituals.
Imagine waking up in the morning and, before plunging into the demands of the day, you light a scented candle infused with your favorite essential oil. The gentle flicker of the flame and the wafting fragrance signal the start of your daily ritual. In that moment, as you inhale the aroma and set your intention for the day, you've already begun your journey into mindfulness.
Similarly, applying essential oils before bedtime can become a cherished ritual to ease into restful sleep. The simple act of massaging a lavender-infused oil onto your pulse points becomes a declaration that this moment is solely for you, a moment to let go of the day's worries and immerse yourself in mindfulness.
3. The Meditation Space
Meditation is a powerful tool for cultivating mindfulness. It's a practice that encourages you to focus on your breath and the present moment, enabling you to let go of the distractions that clutter your mind. Aromatherapy and meditation are a harmonious pair, elevating your meditation experience to new heights.
When you enter your meditation space, imagine the atmosphere is filled with the grounding scent of sandalwood. As you sit down and close your eyes, the fragrance becomes an anchor, grounding you firmly in the here and now. Your breath synchronizes with the rise and fall of the scent, guiding you deeper into your meditation. In this space, your mind is free to explore mindfulness without the hindrance of external distractions.
Essential oils like frankincense, cedarwood, and myrrh are renowned for their ability to create a serene and sacred atmosphere. Incorporating them into your meditation practice transforms your meditation space into a sanctuary for mindfulness.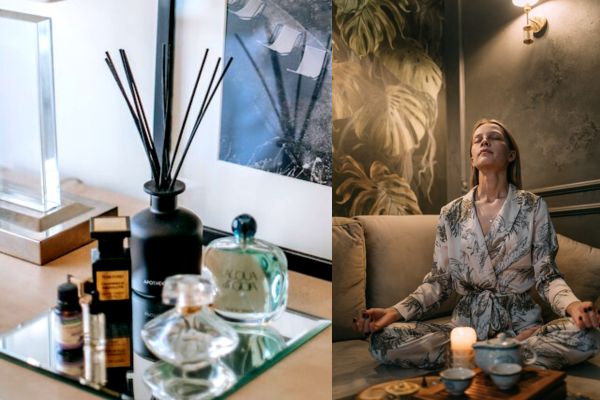 4. Nature's Connection
Aromatherapy is often synonymous with nature's gifts. Essential oils are extracted from plants, flowers, and trees, and this connection to nature can be profoundly grounding and transformative.
Think about how you feel when you spend time in a forest or near the ocean. Nature has an innate ability to draw us into the present moment, away from our thoughts and worries. Aromatherapy allows you to bring a piece of this natural sanctuary into your daily life.
Whether it's the fresh scent of eucalyptus invigorating your morning shower or the earthy aroma of patchouli grounding you during a hectic day, aromatherapy reconnects you with the world around you. It reminds you of the beauty and simplicity of nature, further deepening your mindfulness practice.
5. Banishing Negativity
Negativity, self-doubt, and anxiety often cloud our minds, hindering our ability to be present and mindful. Aromatherapy can be a powerful tool to dispel these mental clouds.
Citrus oils like lemon, orange, and grapefruit have an uplifting and mood-boosting effect. Inhaling their vibrant scents can help shift your perspective from negative to positive. These oils not only clear the air but also clear your mental clutter, creating space for mindfulness to flourish.
Aromatherapy also encourages self-care, a fundamental aspect of mindfulness. By dedicating time to nurture your mental and emotional well-being through the use of essential oils, you signal to yourself that you are worthy of this self-love and self-care. This act of self-compassion bolsters your journey toward mindfulness.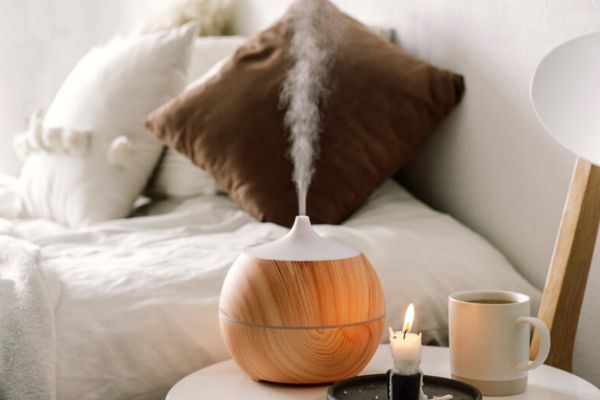 In a world that often feels chaotic and relentless, the pursuit of mindfulness and inner peace has never been more crucial. Aromatherapy, with its ability to engage the senses, calm the mind, establish rituals, enhance meditation, reconnect with nature, and banish negativity, offers a fragrant path to these cherished goals.
Each drop of essential oil, each inhalation of a soothing aroma, is an invitation to be present, to savor the richness of the here and now. Aromatherapy encourages you to infuse mindfulness into your daily life, transforming routine moments into soul-nurturing rituals. It's a journey that takes you from the rush of the everyday to the serene sanctuary within yourself.
So, why not take a moment right now to inhale the scents around you, to appreciate the aroma of your surroundings, and to embark on a scented journey to inner peace? As you embrace mindfulness through aromatherapy, you'll discover that the journey is as beautiful as the destination, and the present moment is your greatest treasure.